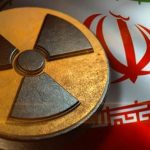 Iran Breaches Nuclear Deal for Fourth Time
Ir
Iran has further endangered world peace this week by violating its nuclear deal with world powers for a fourth time by putting an additional 30 advanced centrifuges into use. Ali Akbar Salehi, the head of Iran's Atomic Energy Organization, made the announcement to state news media on Monday.
The next day, president of Mullahs, Hassan Rouhani, said the Iranian regime would begin injecting uranium gas into over a thousand centrifuges at Fordo – a fortified nuclear facility hidden in a mountain – on Wednesday.
#Iranian regime President Hassan Rouhani rejected a European plan to save the flawed 2015 Iran nuclear deal at a cabinet meeting on Tuesday.#Rouhani Rejects $15 Billion Offer from #EU to Save Flawed #Iran Deal #FreeIran #WeSupportMEK @USAdarFarsi https://t.co/hhoG8VbCmp

— MEK Iran (Mujahedin-e Khalq) (@MEK_Iran) September 6, 2019
However, he said that the step is reversible and that the regime is ready to "negotiate". This backpedaling contradicts with remarks by supreme leader Ali Khamenei, who said on Sunday that negotiations will only weaken the already-fragile regime.
These contradictions are the result of a regime besieged by crises and struggling to maintain consistency. The only consistent thing about the regime is that it will threaten world peace and security in order to prolong its grasp on power.
The regime's nuclear policy appears even more muddled when you consider that Iran's sole purpose for the nuclear deal was to extract concessions from the international community.
Since the US pulled out of the deal last year, citing Iranian noncompliance, Europe has mostly tried to appease Iran, even setting up a program to evade US sanctions on Iran with the only conditions being that Iran complied with the nuclear deal and committed to financial transparency under the Financial Action Task Force. It wasn't a big ask, considering that Iran was supposed to do this anyway, but Iran publically failed to do either.
Therefore, European officials have condemned the regime and warned them against continuing to renege on its obligations, with German Foreign Minister Heiko Maas describing the latest step as "unacceptable" and British Foreign Minister Dominic Raab said that Iran's actions "contravene the deal and pose a risk to our national security".
So why would Iran take this step? Well, the regime is facing mass protests in Iraq and Lebanon over its interference in those countries and people there are demanding the expulsion of Iran's terrorist proxies. Meanwhile, the Iranian people's uprising is continuing with various segments of society demanding freedom. None of this was mentioned by Rouhani, Khamenei, or Salehi.
The uprising in #Iraq show their anger against the poor economic and social situation in their countryhttps://t.co/qKhLhoZftK#WeSupportMEK #MEK #FreeIran @USAdarFarsi pic.twitter.com/OxMtPoAVoq

— MEK Iran (Mujahedin-e Khalq) (@MEK_Iran) October 8, 2019
The National Council of Resistance of Iran and Mujahedin-e Khalq (PMOI/MEK) stressed that: "As the avalanche of protests continues to bear down, Khamenei and his regime find themselves increasingly cornered and without a way out.  What Khamenei said—and didn't say—tell much about the strategic deadlock that is closing in on his regime and the deadly crises he and his regime are faced with.
Tags: Iran Nuclear Agreement, MEK, Mujahedin-e Khalq, Nuclear Deal