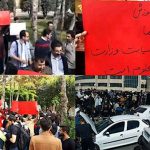 Multiple Groups Protest Regime in Cities across Iran
Protests are spreading across Iran, with multiple groups taking to the streets to protest against the corrupt regime, based reports from the MEK network inside Iran. Iran's economy is in free fall, due to the regime's corruption and mismanagement, as well as crippling U.S. sanctions.
Students' Protests
On Sunday, students from Tehran's Teachers University marched in protest of the University's privatization policies.
The students held signs with a list of their demands:
Changing the current administrative norms.
Eliminate temporary extensions;
Present full and free courses for fifth term students based on orders issued by the Ministry of Sciences.
Cancel all plans aimed at forcing students to evacuate the dormitory and provide necessities.
Close all disciplinary dossiers launched against students.
Guarantee the implementation of Ministry of Sciences' orders.
Station inspectors on campus to guarantee adequate dormitory conditions.
Sack the Student Department officials.
Create transparent measures to provide adequate food at the campus' self-service branch.
Launch Q&A sessions with students for college officials to respond to their demands and issues raised.
More #IranProtests reports across the country are signalling a new drive for another major uprising in #Iran.https://t.co/ZGKk19BLNl

— People's Mojahedin Organization of Iran (PMOI/MEK) (@Mojahedineng) October 30, 2018
Students at Tehran's Open University protested the "Guidance Police" on their campus. The protesting students blocked the units from their patrols. Four students were arrested and many others had their cameras confiscated for recording the protest. According to reports, one unit almost ran over a female student during the protest.
Unemployment is skyrocketing in #Iran under the mullahs' regime.
This report provides a deeper look.https://t.co/qkR2Xxt4z3

— People's Mojahedin Organization of Iran (PMOI/MEK) (@Mojahedineng) October 30, 2018
Retired Bank Employees' Protests
On Saturday, retired bank employees from across Iran gathered outside of the Banks Retiree Fund office in Tehran to protest against their low pensions. The retired employees chanted: "Our pensions are far below the poverty line!"
One protester said, "We retired bank employees, in our senior ages, are facing many difficulties. Seeking answers to our demands of having our pensions increased is now added to that."
October 29
Tehran, #Iran
Outside a Bank Keshavarzi (Farming) branch
Clients of Alborz Nahal Neshan Development Firm protesting & demanding their stolen savings returned.#IranProtests pic.twitter.com/gCaIjqUBLz

— People's Mojahedin Organization of Iran (PMOI/MEK) (@Mojahedineng) October 29, 2018
The bank retirees say that they do not make enough money to cover their basic needs and that their pensions place them below the poverty line.
Credit Firm Clients' Protests
On Thursday, clients of the Padideh credit firm protested outside of the provincial office in Mashhad to demand the return of their stolen savings. The authorities feared that the protest would spread and attempted to suppress the rally. They attacked the protesters and arrested a number of them. People at the scene protested these repressive measures.
On Saturday, clients of the Talaye Thamen credit company protested in Tehran for the return of their stolen savings. One banner demanded the prosecution of figures in the Gold Union and Ministry of Industry.
Farmers' Protest
On Friday, farmers in Jozdan, near Najaf Abad, central Iran, protested authorities not responding to their earlier demands by parking their tractors and blocking the town's main road.
October 28
Piranshahr, western #Iran
Farmers protesting & on strike outside the local sugar cube factory.#IranProtests pic.twitter.com/nsCxOReiWH

— People's Mojahedin Organization of Iran (PMOI/MEK) (@Mojahedineng) October 28, 2018
Street Vendors' Protest
On Thursday, street vendors in Karaj marched in protest of police brutality and confiscation of their goods by authorities. The vendors chanted, "Death to IRGC Basij members!"
Security forces attacked anyone who recorded the march, arrested them, and confiscated some of their phones in order to erase photos and videos.
With Iran's economy in free fall, the people have become restless and angry. The mullahs have no viable plan to address the many problems facing the country and are struggling to hold onto their power with acts of intimidation and suppression. The Iranian people will no longer be intimidated.
Staff Writer
Tags: Free Iran 2018, Iran Economy, Iran human rights, Iran Protests, MEK, MEK Network, Mujahedin-e Khalq